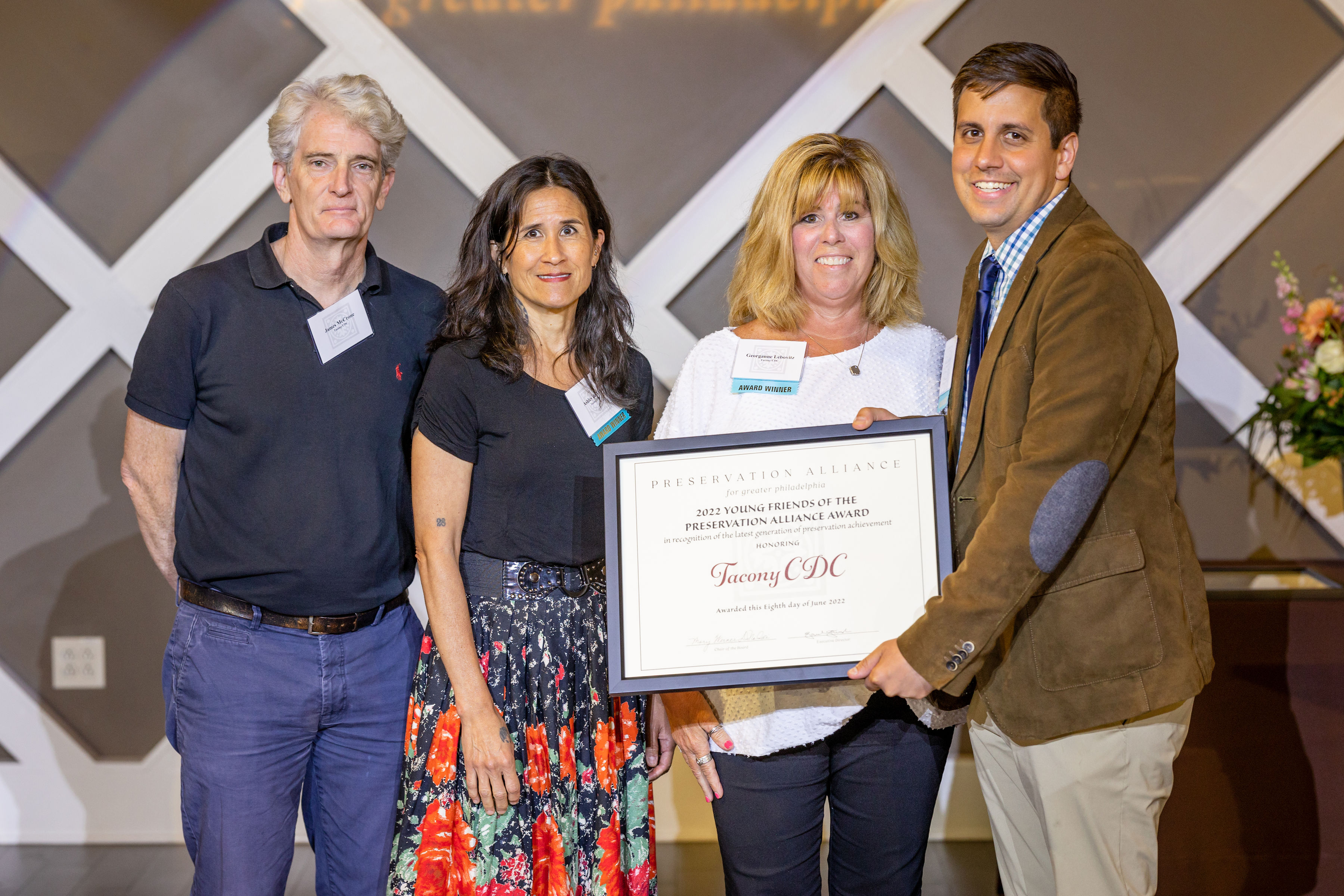 Photo L to R: James McCrone, Ashley de Vries, Georgeanne Labovitz and Alex Balloon. Photo credit: Susan Matyas/SSM Photography
On June 8th, the Tacony Community Development Corporation received the Young Friends of the Preservation Alliance Award at the Preservation Alliance for Greater Philadelphia Achievement Awards event. The award was given "in recognition of the latest generation of preservation achievement" to the TCDC President, Georgeanne Labovitz; Board Trustee and Treasurer, Ashley de Vries; former director, Alexander Balloon; and current director, James McCrone. This is the second award from the Alliance, following the Grand Jury Award for the Torresdale Avenue Storefront Project (2015) in conjunction with the Philadelphia Dept. of Commerce.

"We're very pleased to receive this award from the Preservation Alliance, and for Tacony to be recognized as an innovative place with a vibrant commercial corridor," said Georgeanne Labovitz, President of Tacony CDC, and owner of Marie Huff Hairdressing. "Our group's work targets commercial corridor reinvestment along Torresdale Avenue, inspired by the 'Main Street' project of the National Trust for Historic Preservation. The Tacony CDC marries preservation with community revitalization while connecting with a diverse constituency, demonstrating in bricks and mortar the vital role that preservation can play in building our future."

"Preservation and development are very important components to our approach," added Tacony CDC Treasurer, and owner of Keystone Soundworks, Ashley de Vries. "Just last year, we successfully nominated the Disston-Tacony Industrial Waterfront Historic District to the Philadelphia Register of Historic Places."

The Tacony neighborhood in northeast Philadelphia is a diverse waterfront connector and often-underappreciated cultural hub. The TCDC started in 2001 as an all-volunteer group, focused on housing preservation. For the past ten years it has had a staff, a budget, and is beginning work on its second five-year plan. Not all CDC's are committed specifically to preservation, and that's where Tacony CDC stands out. The Tacony CDC service area is bounded by Cottman Avenue, Frankford Avenue, Robbins Avenue, and the Delaware River.