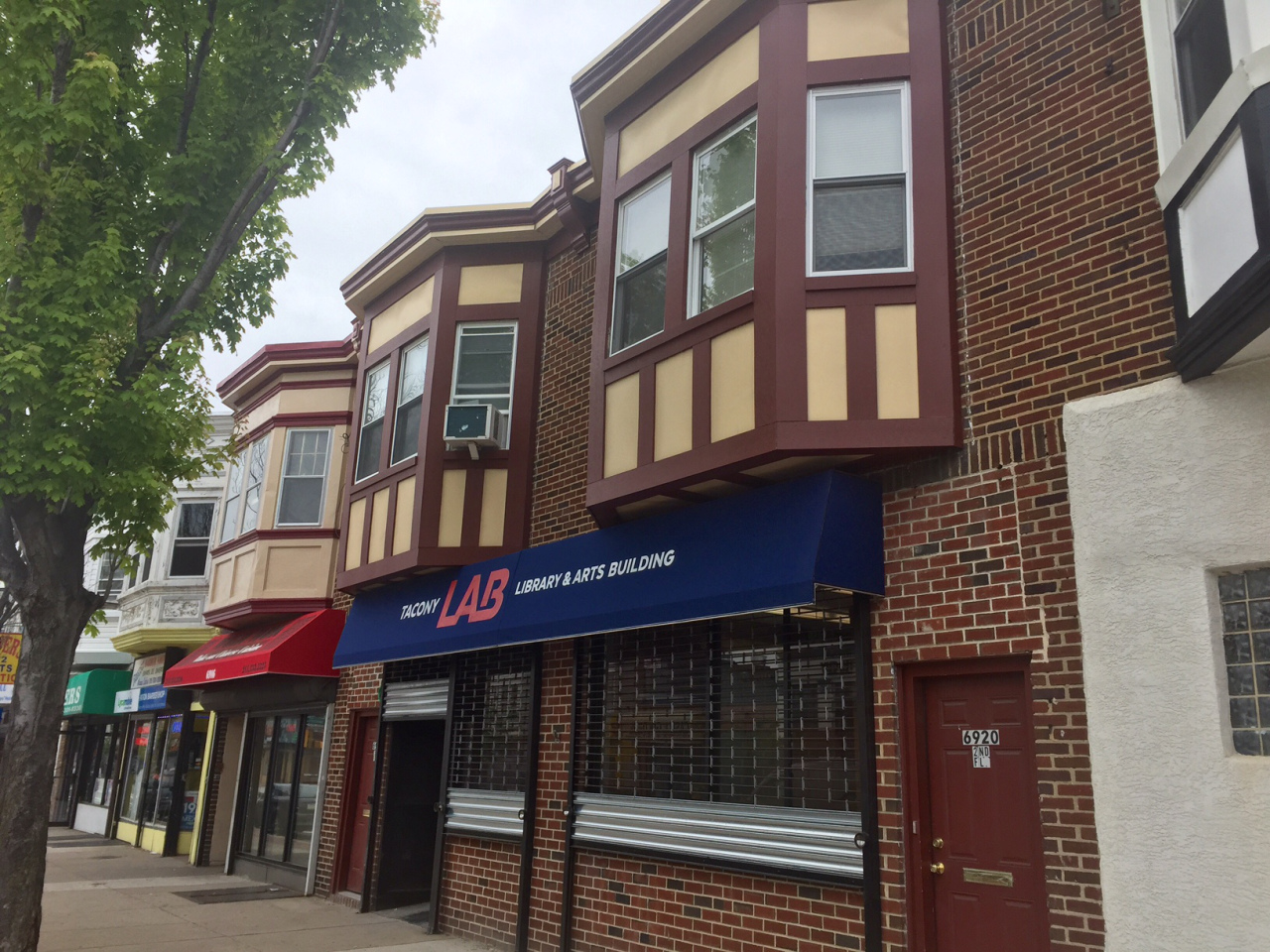 Work on the Tacony Library and Arts Building (LAB) storefront project is nearing completion. The Tacony CDC provided support for storefront work to update the facade of the building. This work included transparent security grates as well as a handsome new awning.
About the LAB
The Tacony Library and Arts Building (LAB) will convert the former hardware store at 6918 Torresdale Avenue into a hub for learning, creativity, and community engagement. Thanks to the support of Councilman Bobby Henon, the Free Library of Philadelphia and the City of Philadelphia Mural Arts Program have combined a temporary home for Tacony's neighborhood library with studio space for two artists-in-residence. Working in collaboration with the community, the artists will use the studio to create art along Torresdale Avenue. While the Tacony Library is closed for renovations, neighborhood residents can visit the LAB to borrow books, use computers, access free Wi-Fi, and attend programs.
Tacony Artists
Mural Arts artists will be working from the studio inside the building as well as directly outside in the community.
Mariel Capanna is a painter who received a BFA from the Pennsylvania Academy of Fine Art in 2013. Since that time, her work has been supported by an Independence Foundation Visual Arts Fellowship, which allowed her to study fresco painting in Florence, Italy, and a grant from the Kittredge Fund, which supported a year of independent travel around the United States. She is a recipient of the Philadelphia Mayor's Award and the Woodmere Purchase Prize. She grew up in South Philadelphia. marieljoancapanna.tumblr.com
Nick Cassway draws on printmaking, graphic design and painting to create his work. A veteran of the Philadelphia art world, Nick graduated from Temple University Tyler School of Art with a BFA in 1990. He served as executive director of Nexus Foundation for Today's Art from 2004-2009, is an associate professor at Drexel University, and is a 2015 fellow with the Center for Emerging Visual Artists. He grew up in Wyncote. nickcassway.com
Early Projects
The Mural Arts Program and the LAB artists are excited to work with the community in the creation of public art along Torresdale Avenue. Nick and Mariel have spent the past 2 months learning about the history of Tacony and meeting Tacony residents. They've come up with two initial project ideas.
Murals
An example of a famous fresco: Michelangelo's masterpiece on the ceiling of the Sistine Chapel in the Vatican
Mariel would like to draw on her training in the ancient art of fresco painting to create one or more murals that draw on personal stories of life in  Tacony. These would be a first for Philly: artists from the Mural Arts Program have painted thousands of murals, but none using fresco technique. Mariel would develop her work through community workshops in storytelling and fresco painting.
Parklet
An example of a parklet at the Logan Branch Library
Parklets are little parks built into parking spaces. Nick would like to create a parklet in front of the LAB that would provide outdoor space for library patrons, as well as for shoppers and passersby. This outdoor "reading room" would also be used for art workshops and small events. The "Frank Shuman Solar Art Parklet" would be equipped with solar panels to pay homage to Frank Shuman, who pioneered solar power in Tacony in the early 20th century.
We want to hear from you!
Please come to the Tacony LAB on Saturday, June 11 from 4pm-7pm to:
provide community feedback
talk with the artists
see their work
create your own take-home fresco
brainstorm ideas for the parklet
Refreshments will be served! All ages welcome.
For more information on this event and other LAB news – including the library opening date – visit the Tacony LAB Facebook page.

Questions? Input? Feel free to contact
Maria Möller, MAP Project Manager, at maria.moller@muralarts.org
The Tacony LAB is a partnership between the Office of Councilman Bobby Henon, the Free Library of Philadelphia, and the City of Philadelphia Mural Arts Program, with additional support from the Tacony CDC. The above article has been adapted by materials provided by the Mural Arts Program.