The History Of Torresdale Avenue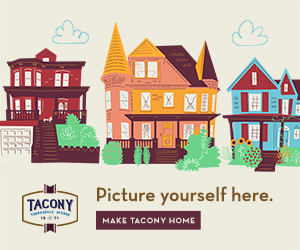 The new streetcar brought more residents to Tacony. More businesses were needed to serve these residents and spurred development along Torresdale Avenue. Throughout the next century, many of the original residences were demolished or moved and replaced with commercial buildings or mixed-use buildings that contained a storefront on the ground floor and residential units above. Interestingly, one of the first developments after the new Torresdale streetcar installation was the Tacony Library. The land for the library was provided by the Disston family and funds for constructing the building were given by Andrew Carnegie. Of the nearly 2,400 libraries that Carnegie funded, only about 800 remain, including the original Tacony Library.
Many of the first businesses to move to Torresdale Avenue after the streetcar installation were serving basic needs, such as plumbing services or grocery merchants. Many business owners were skeptical of Torresdale Ave because it was considered to be far away. Torresdale Avenue boomed after the Depression and by 1960, Torresdale Avenue had become the main commercial street in Tacony.
Now, Torresdale Avenue is the major commercial street in Tacony. The businesses located on Torresdale cater to the needs of the nearby residents. As COVID-19 devastated commercial corridors throughout the city of Philadelphia, Torresdale Avenue continues to attract new businesses.

>> LEARN MORE about living near Vogt Park/Disston Park